VOTE AND VOTE-BY-MAIL
Be one of more than 9 million registered California Democrats who takes a stand for Democratic values of progress and prosperity for all.
As a registered voter, you hold the power in your vote to determine our future, elect our leaders and support legislation that shapes every aspect of our lives.
Truth Squad Toolkit:   https://cadem.vote/toolkit
Join the Voter Protection Team: https://cadem.org/vote/voter-protection-team/
Join Outreach Circle – The best way to get Voting Info & Actions: http://cadem.vote/ocdl (must use a mobile device for the link to work) 
California General Election Primer 2020


California Voting Registration Deadline: 15 days before Election Day (November 3)
Voter Registration Deadline for November 3, 2020: October 19, 2020

Already registered? Make sure by verifying your registration online with our "My Voter Status" tool.
What You Will Need
To register online, you will need:
Your California driver license or California identification card number,

The last four digits of your social security number and

Your date of birth.
Your information will be provided to the California Department of Motor Vehicles (DMV) to retrieve a copy of your DMV signature.
If you do not have a California driver license or California identification card, you can still use this form to apply to register to vote. However, you will need to take additional steps to complete your voter registration.

If you wish to register to vote in a language other than English, please select your language below.
Español Spanish     한국어 Korean    中文 Chinese      हिन्दी Hindi   日本語 Japanese ខ្មែរ Khmer  Tagalog ภาษาไทย Thai    Tiếng Việt Vietnamese
If you missed the VR deadline, are registering or re-registering less than 15 days before an election you will need to complete the Same-Day Voter Registration process.
CLICK HERE FOR SAME DAY VOTER REGISTRATION

You may also request your ballot in person at your county elections office or polling location. For more information on voter registration and voting locations: 
CLICK HERE FOR YOUR LOCAL COUNTY ELECTIONS OFFICE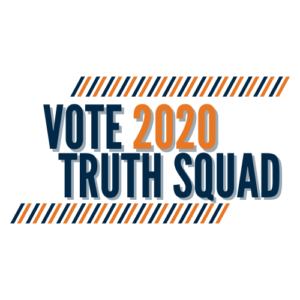 Vote by Mail 
Any registered CA voter may vote using a vote-by-mail ballot instead of going to the polls on Election Day. 
On May 8, 2020, Governor Gavin Newsom issued Executive Order N-64-20, which orders that a vote-by-mail ballot be mailed to every CA voter prior to November 3, 2020, in addition to offering in-person voting locations.
Help us dispel vote-by-mail misinformation, visit our Vote-by-Mail Truth Squad Toolkit to help! 
How to Fill Out Your Ballot
You will receive your ballot in the mail at least 3 weeks before the election. Ballot packets will be mailed on October 5, 2020.

Read the instructions and mark your selections on your ballot.

Put the ballot in the provided return envelope and fill in the required information on the envelope.

You must

SIGN

your name and

DATE

the return envelope or your ballot will not be counted. Your signature must match the signature on your voter registration application form.
Returning Your Ballot
Vote-by-mail ballots must be postmarked on or before Election Day, November 3, 2020.

No postage is necessary.

DON'T FORGET TO SIGN AND DATE

(your ballot can arrive within 17 days after election day, the registrar can use the date that you signed your ballot, in the event that your ballot does not get postmarked)

THE OUTSIDE OF YOUR BALLOT ENVELOPE BEFORE MAILING.

Mail the ballot or drop the ballot in a secure county ballot drop box; or

Visit any vote center in the county –

CA counties are allowed to conduct elections under the Voter's Choice Act model:




Amador, Butte, Calaveras, El Dorado, Fresno, Inyo, Los Angeles, Madera, Napa, Nevada, Orange, Sacramento, San Luis Obispo, San Mateo, Santa Clara, Shasta, Sierra, Sutter, Tuolumne.  



CLICK HERE FOR EARLY VOTING AND BALLOT DROP OFF LOCATIONS
CLICK HERE TO FIND YOUR POLLING PLACE
Track your ballot  –

The following counties are now offering 

Where's My Ballot?


Amador, El Dorado, Fresno, Glenn, Kern, Los Angeles, Marin, Mariposa, Merced, Monterey, Orange, Placer, Riverside, Sacramento, San Benito, San Joaquin, San Luis Obispo, Santa Clara, Shasta, Sutter, Santa Clara, Shasta, Sutter, Tehama, Tuolumne, Ventura, Yolo, Yuba.
CLICK HERE TO TRACK YOUR BALLOT
If you are not already registered, you can register online at RegisterToVote.ca.gov. As part of registering to vote, you are given the option to become a "permanent vote-by-mail voter," which means you would automatically receive a ballot in the mail before each election.
Vote-by-Mail Frequently Asked Questions 
The following instructional video is shared courtesy of the California Secretary of State: